Thanksgiving Food Drive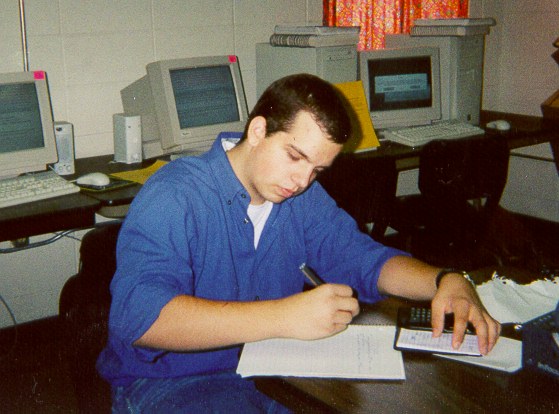 Chapter Vice President Brad Thompson works diligently on tallying up the results from the canned food drive.
Van Buren FBLA benefitted the local Area Agency and Turner's Gospel Rescue Mission. We collected over 1,300 non-perishable items. Our chapter donated turkeys for the Thanksgiving baskets. In order to encourage participation within the school, members developed a contest that awarded a pizza party to the homeroom which donated the most canned foods. Ms. Amy Brady's English class won the competition and enjoyed a day of pizza fun.
Christmas Winterwear Tree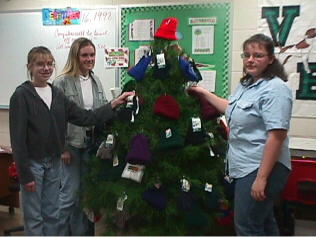 Chapter members display the Christmas Winterwear Tree that was used to collect hats, mittens, gloves, etc for local needy people.
FBLA participated with the Cooperative Office Education class and Future Teachers of America in gathering items for a Christmas Winterwear Tree. Members gathered children's toboggans, mittens, gloves, and socks. Items were placed on a Christmas tree in the COE classroom. These items were donated to a local Battered Women and Children's Shelter. Items were donated there because this shelter provides services for Van Buren.
Highway Clean-Up

Van Buren FBLA recently adopted a section of Pointer Trail under the Adopt-a-Spot program. Pointer Trail runs in front of Van Buren High School and the VB School District Administration Building. The chairpeople for this year's program are Trish Strite and Paige Jerden. Twice a year, chapter members donate their time to keep this part of our city trash free.